MITTWOCH 24. Januar 2018 um 20:00
MERCREDI, 24 janvier 2018 à 20:00 - WEDNESDAY, 24th of January 2018 at 8:00 pm
im Centre Culturel de Rencontre Abbaye de Neumünster, salle Robert Krieps, Luxemburg-Grund
Collaboration Folk-Clupp Lëtzebuerg - Neimënster
avec le soutien du Ministère de la Culture
NA LEANAI
Nordirland - Irlande du Nord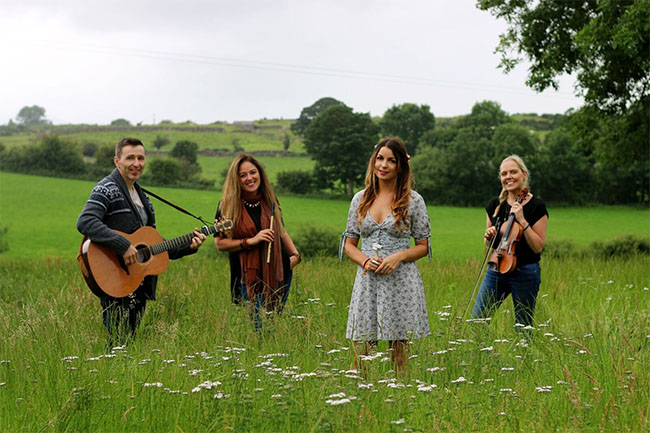 Der multi-talentierte Nachwuchs der berühmten Sands Family - Na Leanaí - fesselt mit zauberhaften Harmonien, frischen Arrangements und einer beeindruckenden Bühnenpräsenz.
Die Schwestern Sorcha und Eimear (Töchter von Anne Sands) sowie deren Cousine Ryanne (Tochter von Ben) und Cousin Fra (Sohn von Hugh) tragen die Folktradition Nordirlands in ihren Herzen und man spürt ihre Ehrfurcht vor dem, was sie von ihren Eltern gelernt haben.
Die dynamische, charismatische Band spielt einen beeindruckenden, vielseitigen Mix aus irischen, schottischen und amerikanischen Folksongs zusammen mit neuen, eigenen Kompositionen.
La progéniture multi-talentueuse de la célèbre Sands Family - Na Leanaí - captive avec des harmonies enchanteresses, des arrangements nouveaux et une impressionnante scène de présence.
Les sœurs Sorcha et Eimear (filles d'Anne Sands) ainsi que leurs cousine Ryanne (fille de Ben) et le cousin Fra (fils de Hugh) portent la tradition folklorique de l'Irlande du Nord dans leurs cœurs et vous pouvez sentir leur respect pour ce qu'ils ont appris de leurs parents.
Le groupe dynamique et charismatique joue un mélange impressionnant et polyvalent de chansons irlandaises, écossaises et américaines, ainsi que de nouvelles compositions.
The multi-talented new generation of the famous Sands Family - Na Leanaí - captivates with enchanting harmonies, fresh arrangements and an impressive stage presence.
The sisters Sorcha and Eimear (daughters of Anne Sands) as well as their cousins Ryanne (daughter of Ben) and Fra (son of Hugh) carry the folk tradition of Northern Ireland in their hearts and you can feel their reverence for what they have learned from their parents.
The dynamic, charismatic band plays an impressive, versatile mix of Irish, Scottish and American folksongs together with new, own compositions.
Musiker/Musiciens/ Musicians:
Sorcha Turnbull: Gesang, Bodhran, Querflöte, irische Flöten - voix, bodhran, flûte traversière, flûtes irlandaises - vocals, bodhran, flute, tin and low whistles
Ryanne Sands: Gesang, Geige - voix, violon - vocals, fiddle
Eimear Keane: Gesang, Percussion, irische Flöten - voix, percussions, flûtes irlandaises - vocals, percussion, tin and low whistles
Fra Sands: Gesang, Gitarre - chant, guitare - vocals, guitar
Weitere Informationen / Informations supplémentaires:
Eintritt/Entrée: Vorverkauf/Prévente 25 €, Reduziert/Réduit 12 €, Kulturpass 1,50 €
Vorverkauf über die Webseite des:/ Prévente par la page web du:
Neimënster: www.neimenster.lu
Reservationen/Réservations: Tel. (+352) 26 20 52 444
Für alle Fragen - Pour toutes questions: e-mail:
billetterie@neimenster.lu
---
De Folk-Clupp um Radio ARA

LIDDERHANES

All 1. Dënschdeg am Mount vun 20h00 bis 22h00

op 102,9 MHz an 105,2 MHz

live streaming on

---
---
| | last update: January 1st 2018 | |
| --- | --- | --- |
---