Programme 2017
40 Joer Folk-Clupp 1977 - 2017
---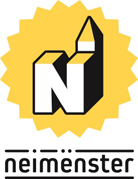 MITTWOCH, 4. Oktober 2017 um 20:00
MERCREDI, 4 octobre 2017 à 20:00 - WEDNESDAY, 4th of October 2017 at 8:00 pm
im Centre Culturel de Rencontre Abbaye de Neumünster, salle Robert Krieps, Luxemburg-Grund
Collaboration Folk-Clupp Lëtzebuerg - Neimënster
avec le soutien du Ministère de la Culture et de l'Ambassade de l'Autriche
MADAME BAHEUX (Austria)
Folk / Worldmusic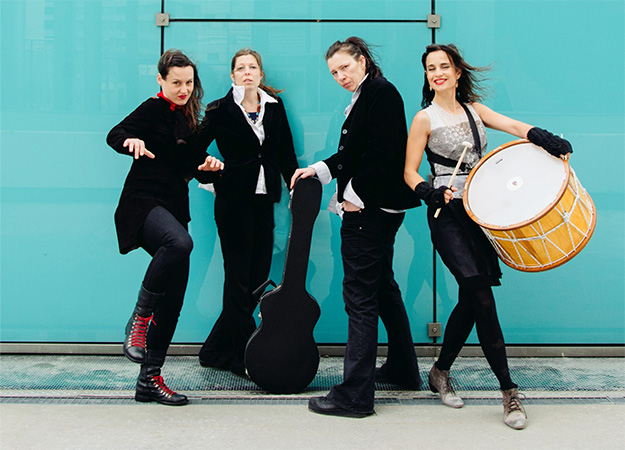 "Frauen-Power" wäre eine Untertreibung in Anbetracht dieses neuen femininen Balkanquartetts. Jelena Popržan aus Serbien, Ljubinka Jokic aus Bosnien, Maria Petrova aus Bulgarien und Lina Neuner aus Wien: vier Stimmen, vierzehn Saiten, zwei Bögen plus Percussion und Drums. Witzig, spritzig, schräg und groovy! Jung, feminin und frech! Mitreißende Folk-Songs aus Bulgarien, Serbien, Bosnien und Mazedonien in innovativen Arrangements, smarte Eigenkompositionen der Bandmitglieder und Lieder von Ewan MacColl, Bertolt Brecht, Georg Kreisler sowie ein Lied über ungastliche Wiener und ihre ausländischen Gäste in experimentellem Fiktiv-Wienerisch.
Obwohl die Musikerinnen ihre Wurzeln in Südosteuropa haben (außer "Gastarbajterka" aus Kloster Neuburg Lina Neuner) und ein Teil ihres Repertoires sich dazu bekennt, weist das Quartett sowohl in seinem Repertoire als auch in seinem künstlerischen Ausdruck weit darüber hinaus. Nach allen Richtungen offen zeigt es sich, Jazz, Rock, kritisches Lied ... in, Serbokroatisch, Bulgarisch, Englisch und "Weanarisch" ...
Madame Baheux bringen etwas Neues auf die Bühne, das mitreißt, verführt, zum Lachen reizt, in Hirn, Herz und Beine geht ...
Madame Baheux haben den Austrian World Music Awards 2014 gewonnen und ihre erste CD hat es in die Top Twenty der Weltmusik-Charts Europa geschafft.
Ce quartette de femmes de Vienne montre que le terme "Girl Power" a grand besoin d'une mise à jour. Jelena Popržan de Serbie, Ljubinka Jokic de Bosnie, Maria Petrova de Bulgarie et Lina Neuner d'Autriche: Quatre voix, quatorze cordes, deux archets plus percussions et tambours. C'est drôle, frénétique et groovy! C'est frais, féminin et audacieux!
Madame Baheux nous présente des morceaux folkloriques, entraînants et addictifs de Bulgarie, de Serbie, de Bosnie et de la Macédoine avec des arrangements novateurs, des originaux composés par les membres du groupe ainsi que des chansons d'Ewan MacColl, de Bertolt Brecht et de Georg Kreisler. Sans parler de cette chanson au sujet d'un indigène local expliquant ses sentiments à l'égard de travailleurs étrangers invités dans un dialecte fictif viennois expérimental.
Malgré les racines sud-européennes des musiciennes (sans compter le "travailleur migrant" Lina Neuner qui s'est rendue de la campagne à Vienne) et l'influence évidente sur leur répertoire, le quartette dépasse largement ces frontières. Son expression artistique et la musique est multilingue ainsi que multi-stylistique, mettant en vedette le jazz, rock, composition sociocritique et d'autres genres.
Madame Baheux a apporté quelque chose de nouveau sur scène, quelque chose enivrant, agitant, provoquant le rire, quelque chose touchant l'esprit, le corps et le cœur.
Madame Baheux a remporté les World Music Awards en Autriche 2014 et leur premier CD est arrivé au top 20 des World Music Charts Europe.
Watching this female quartet from Vienna demonstrates how the term "Girl Power" is in serious need of an update. Jelena Popržan from Serbia, Ljubinka Jokic from Bosnia, Maria Petrova from Bulgaria and Lina Neuner from Austria: Four voices, fourteen strings, two bows plus percussion and drums. It´s funny, frenetic and groovy! It´s fresh, feminine and audacious!
Expect catchy and addictive folk songs from Bulgaria, Serbia, Bosnia and Macedonia in innovative arrangements, self-composed originals by the band members as well as songs by Ewan MacColl, Bertolt Brecht and Georg Kreisler. Not to mention that tune about a local native extemporizing his feelings about foreign guestworkers in fictitous experimental Viennese dialect.
Despite the musicians´ southeast-european roots (not including "migrant worker" Lina Neuner who travelled into Vienna from the county side) and the obvious influence on their repertoire, the quartet reaches far beyond these boundaries. Its artistic expression and music is multi-lingual as well as multi-stylistic, featuring Jazz, Rock, socio-critical songwriting and other genres.
Madame Baheux have brought something new on stage. Something that intoxicates, stirs up, provokes laughter, something that moves the mind, body and heart.
Madame Baheux won the Austrian World Music Awards 2014 and their debut CD got on top 20 of the World Music Charts Europe.
Die Musiker / Les musiciens / The musicians:
Jelena Popržan: Viola, Gesang - viole, chant - viola, voice
Ljubinka Jokic: (E)-Gitarre, Gesang - guitare (él.), chant - (el.) guitar, voice
Lina Neuner: Kontrabass - violoncelle - double bass
Maria Petrova: Drums, Percussion - batterie, percussion - drums, percussion
Weitere Informationen / Informations supplémentaires:
Eintritt/Entrée: Vorverkauf/Prévente 25 €, Reduziert/Réduit 12 €, Kulturpass 1,50 €
Vorverkauf über die Webseite des:/ Prévente par la page web du:
Neimënster: www.neimenster.lu
Reservationen/Réservations: Tel. (+352) 26 20 52 444
Für alle Fragen - Pour toutes questions: e-mail:
billetterie@neimenster.lu
---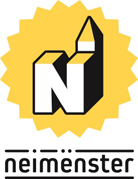 SAMSTAG, 2. Dezember 2017 um 20:00
SAMEDI, 2 décembre 2017 à 20:00 - SATURDAY, 2nd of December 2017 at 8:00 pm
im Centre Culturel de Rencontre Abbaye de Neumünster, salle Robert Krieps, Luxemburg-Grund
Collaboration Folk-Clupp Lëtzebuerg - Neimënster
avec le soutien du Ministère de la Culture
VOXTRA
The encounter of vocal heritage
Madagaskar - Finnland - Sardinien - Albanien – Belgien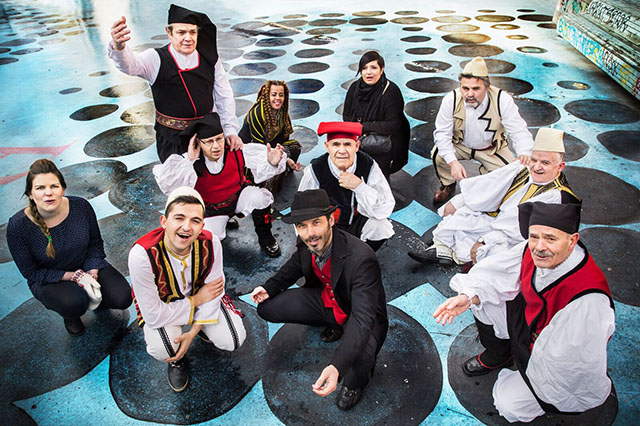 Voxtra ist ein ehrgeiziges Projekt, das die unglaublichsten Stimmtraditionen vereint. Diese Fusion, die nicht wirklich eine ist, da jede Tradition immer noch vollkommen erkennbar ist, bringt die albanische Iso-Polyphonie mit ihren wehmütigen Klängen, die Cantu a Tenore des ländlichen Sardiniens, den Beko-Gesang des südlichen Madagaskar, den finnische Joik und Runengesang und die traditionellen Lieder/Erzählungen aus Belgien zusammen.
Durch die Arbeit an traditionellen Melodien aus ihren jeweiligen Kulturen haben diese hochrangigen Musiker ein neues Repertoire geschaffen, in dem sich unerhörte Klänge entwickeln. Vom albanischen Bordun bis zu den madagassischen Vokalismen wird ein Klang-Universum in unseren erfreuten Ohren erschaffen!
Voxtra geht es um die Erforschung der gemeinsamen Wurzeln zwischen verschiedenen Traditionen: ein besonderer Reim, ähnliche Harmonien, eine Melodie, die an eine andere erinnert ... Die sardische Tenore singen nicht wie ein Malgash, sondern sie weben einen Stimmen-Teppich, der Talike's Gesang unterstützt . Anu singt nicht mit dem Gjini- Ensemble auf Albanisch, aber die Lieder ihrer Jugend in Finnland erklingen als Echo der albanischen Polyphonie. Voxtra erlaubt es den Traditionen, sich miteinander zu verständigen, die Ähnlichkeiten kommen an die Oberfläche, aber der Schwerpunkt liegt auf der Einzigartigkeit jeder Tradition.
Voxtra est une rencontre musicale détonnante entre cinq styles de chant traditionnels différents. Dans une fusion qui n'en est pas une - chaque tradition restant distincte des autres - nous découvrons l'isopolyphonie sanglotant d'Albanie, le cantu a tenore rural de Sardaigne, le style Beko du sud de Madagascar, les chants de rune et le joik de Finlande, et le récit chanté de Belgique. Voxtra rassemble des combinaisons audacieuses, des danses, de l'humour dans une performance à couper le souffle.
En travaillant sur des mélodies traditionnelles issues de leurs cultures respectives, ces musiciens de haut niveau sont parvenus à créer un répertoire inédit où se développent des sonorités inouïes. Du bourdon albanais aux vocalises malgaches, un univers sonore se construit en nos oreilles ravies !
Dans ce projet, nous partons des traditions de chacun pour trouver des points communs entre elles : un rythme particulier, des harmonies similaires, une mélodie qui en rappelle une autre... et croiser les apports de chacun. Les tenores sardes ne font pas des joddles comme un Malgache pourrait le faire, mais ils créent un tapis sonore polyphonique qui soutient les vocalises de Talike. Anu n'apprend pas l'albanais pour chanter avec le choeur des Gjini, mais se remémore des chants de son enfance en Finlande qui entrent en écho avec la polyphonie. Avec Voxtra, les traditions dialoguent et révèlent ce qu'elles ont de commun, tout en affirmant leur diversité.
Voxtra is an ambitious project that brings together the most incredible vocal traditions. This amalgamation - not exactly a fusion, since each tradition is still perfectly recognisable - showcases Albanian iso-polyphony with its plangent quality, the cantu a tenore of the Sardinian countryside, Beko blues singing of southern Madagascar, Finnish yoik and rune singing and the Belgian récit chanté.
By working on traditional melodies from their respective cultures, these high level musicians have managed to create a new repertoire where unheard-of sounds develop. From the Albanian drones to the Malagasy vocalises, a sonorous universe is built in our delighted ears!
Voxtra is about the exploration of common ground between different traditions: a particular rhyme, similar harmonies, and a melody that reminisces another one... The Sardinian tenore don't yoddle like a Malgash, but rather they create a vocal tapestry that supports Talike's singing. Anu doesn't sing in Albanian with the Gjini-ensemble but the songs of her youth in Finland resound as an echo of the Albanian polyphony. Voxtra allows the traditions to engage in a dialogue with each other, the similarities come to the surface, but the emphasis lies on the uniqueness of each tradition.
Sänger/Chanteurs/ Singers:
Raphael De Cock: Belgien - Belgique - Belgium
Anu Junnonen: Finnland - Finlande - Finland
Talike Gellé: Madagaskar - Madagascar - Madagascar
Tenore de Monte Arvu: Domenico Nanu, Ivo Deledda, Tore Deledda, Manuela Deledda, Giovanni Carta: Sardinien - Sardaigne - Sardinia
Famille Gjini: Gramoz, Brihans et Ylber Gjini: Albanien - Albanie - Albania
Weitere Informationen / Informations supplémentaires:
Eintritt/Entrée: Vorverkauf/Prévente 25 €, Reduziert/Réduit 12 €, Kulturpass 1,50 €
Vorverkauf über die Webseite des:/ Prévente par la page web du:
Neimënster: www.neimenster.lu
Reservationen/Réservations: Tel. (+352) 26 20 52 444
Für alle Fragen - Pour toutes questions: e-mail:
billetterie@neimenster.lu
---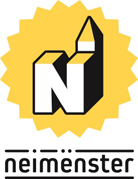 MITTWOCH 24. Januar 2018 um 20:00
MERCREDI, 24 janvier 2018 à 20:00 - WEDNESDAY, 24th of January 2018 at 8:00 pm
im Centre Culturel de Rencontre Abbaye de Neumünster, salle Robert Krieps, Luxemburg-Grund
Collaboration Folk-Clupp Lëtzebuerg - Neimënster
avec le soutien du Ministère de la Culture
NA LEANAI
Nordirland - Irlande du Nord
Der multi-talentierte Nachwuchs der berühmten Sands Family - Na Leanaí - fesselt mit zauberhaften Harmonien, frischen Arrangements und einer beeindruckenden Bühnenpräsenz.
Die Schwestern Sorcha und Eimear (Töchter von Anne Sands) sowie deren Cousine Ryanne (Tochter von Ben) und Cousin Fra (Sohn von Hugh) tragen die Folktradition Nordirlands in ihren Herzen und man spürt ihre Ehrfurcht vor dem, was sie von ihren Eltern gelernt haben.
Die dynamische, charismatische Band spielt einen beeindruckenden, vielseitigen Mix aus irischen, schottischen und amerikanischen Folksongs zusammen mit neuen, eigenen Kompositionen.
La progéniture multi-talentueuse de la célèbre Sands Family - Na Leanaí - captive avec des harmonies enchanteresses, des arrangements nouveaux et une impressionnante scène de présence.
Les sœurs Sorcha et Eimear (filles d'Anne Sands) ainsi que leurs cousine Ryanne (fille de Ben) et le cousin Fra (fils de Hugh) portent la tradition folklorique de l'Irlande du Nord dans leurs cœurs et vous pouvez sentir leur respect pour ce qu'ils ont appris de leurs parents.
Le groupe dynamique et charismatique joue un mélange impressionnant et polyvalent de chansons irlandaises, écossaises et américaines, ainsi que de nouvelles compositions.
The multi-talented new generation of the famous Sands Family - Na Leanaí - captivates with enchanting harmonies, fresh arrangements and an impressive stage presence.
The sisters Sorcha and Eimear (daughters of Anne Sands) as well as their cousins Ryanne (daughter of Ben) and Fra (son of Hugh) carry the folk tradition of Northern Ireland in their hearts and you can feel their reverence for what they have learned from their parents.
The dynamic, charismatic band plays an impressive, versatile mix of Irish, Scottish and American folksongs together with new, own compositions.
Musiker/Musiciens/ Musicians:
Sorcha Turnbull: Gesang, Bodhran, Querflöte, irische Flöten - voix, bodhran, flûte traversière, flûtes irlandaises - vocals, bodhran, flute, tin and low whistles
Ryanne Sands: Gesang, Geige - voix, violon - vocals, fiddle
Eimear Keane: Gesang, Percussion, irische Flöten - voix, percussions, flûtes irlandaises - vocals, percussion, tin and low whistles
Fra Sands: Gesang, Gitarre - chant, guitare - vocals, guitar
Weitere Informationen / Informations supplémentaires:
Eintritt/Entrée: Vorverkauf/Prévente 25 €, Reduziert/Réduit 12 €, Kulturpass 1,50 €
Vorverkauf über die Webseite des:/ Prévente par la page web du:
Neimënster: www.neimenster.lu
Reservationen/Réservations: Tel. (+352) 26 20 52 444
Für alle Fragen - Pour toutes questions: e-mail:
billetterie@neimenster.lu
---
De Folk-Clupp um Radio ARA

LIDDERHANES

All 1. Dënschdeg am Mount vun 20h00 bis 22h00

op 102,9 MHz an 105,2 MHz

live streaming on

---
---
| | last update: October 2nd 2017 | |
| --- | --- | --- |
---