MITTWOCH, 4. Oktober 2017 um 20:00
MERCREDI, 4 octobre 2017 à 20:00 - WEDNESDAY, 4th of October 2017 at 8:00 pm
im Centre Culturel de Rencontre Abbaye de Neumünster, salle Robert Krieps, Luxemburg-Grund
Collaboration Folk-Clupp Lëtzebuerg - Neimënster
avec le soutien du Ministère de la Culture et de l'Ambassade de l'Autriche
MADAME BAHEUX (Austria)
Folk / Worldmusic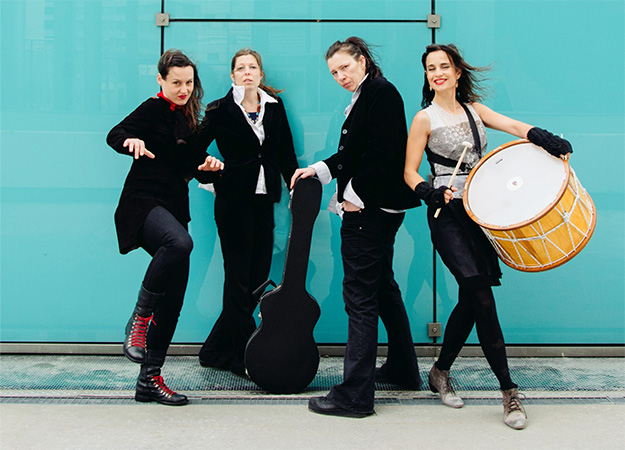 "Frauen-Power" wäre eine Untertreibung in Anbetracht dieses neuen femininen Balkanquartetts. Jelena Popržan aus Serbien, Ljubinka Jokic aus Bosnien, Maria Petrova aus Bulgarien und Lina Neuner aus Wien: vier Stimmen, vierzehn Saiten, zwei Bögen plus Percussion und Drums. Witzig, spritzig, schräg und groovy! Jung, feminin und frech! Mitreißende Folk-Songs aus Bulgarien, Serbien, Bosnien und Mazedonien in innovativen Arrangements, smarte Eigenkompositionen der Bandmitglieder und Lieder von Ewan MacColl, Bertolt Brecht, Georg Kreisler sowie ein Lied über ungastliche Wiener und ihre ausländischen Gäste in experimentellem Fiktiv-Wienerisch.
Obwohl die Musikerinnen ihre Wurzeln in Südosteuropa haben (außer "Gastarbajterka" aus Kloster Neuburg Lina Neuner) und ein Teil ihres Repertoires sich dazu bekennt, weist das Quartett sowohl in seinem Repertoire als auch in seinem künstlerischen Ausdruck weit darüber hinaus. Nach allen Richtungen offen zeigt es sich, Jazz, Rock, kritisches Lied ... in, Serbokroatisch, Bulgarisch, Englisch und "Weanarisch" ...
Madame Baheux bringen etwas Neues auf die Bühne, das mitreißt, verführt, zum Lachen reizt, in Hirn, Herz und Beine geht ...
Madame Baheux haben den Austrian World Music Awards 2014 gewonnen und ihre erste CD hat es in die Top Twenty der Weltmusik-Charts Europa geschafft.
Ce quartette de femmes de Vienne montre que le terme "Girl Power" a grand besoin d'une mise à jour. Jelena Popržan de Serbie, Ljubinka Jokic de Bosnie, Maria Petrova de Bulgarie et Lina Neuner d'Autriche: Quatre voix, quatorze cordes, deux archets plus percussions et tambours. C'est drôle, frénétique et groovy! C'est frais, féminin et audacieux!
Madame Baheux nous présente des morceaux folkloriques, entraînants et addictifs de Bulgarie, de Serbie, de Bosnie et de la Macédoine avec des arrangements novateurs, des originaux composés par les membres du groupe ainsi que des chansons d'Ewan MacColl, de Bertolt Brecht et de Georg Kreisler. Sans parler de cette chanson au sujet d'un indigène local expliquant ses sentiments à l'égard de travailleurs étrangers invités dans un dialecte fictif viennois expérimental.
Malgré les racines sud-européennes des musiciennes (sans compter le "travailleur migrant" Lina Neuner qui s'est rendue de la campagne à Vienne) et l'influence évidente sur leur répertoire, le quartette dépasse largement ces frontières. Son expression artistique et la musique est multilingue ainsi que multi-stylistique, mettant en vedette le jazz, rock, composition sociocritique et d'autres genres.
Madame Baheux a apporté quelque chose de nouveau sur scène, quelque chose enivrant, agitant, provoquant le rire, quelque chose touchant l'esprit, le corps et le cśur.
Madame Baheux a remporté les World Music Awards en Autriche 2014 et leur premier CD est arrivé au top 20 des World Music Charts Europe.
Watching this female quartet from Vienna demonstrates how the term "Girl Power" is in serious need of an update. Jelena Popržan from Serbia, Ljubinka Jokic from Bosnia, Maria Petrova from Bulgaria and Lina Neuner from Austria: Four voices, fourteen strings, two bows plus percussion and drums. It´s funny, frenetic and groovy! It´s fresh, feminine and audacious!
Expect catchy and addictive folk songs from Bulgaria, Serbia, Bosnia and Macedonia in innovative arrangements, self-composed originals by the band members as well as songs by Ewan MacColl, Bertolt Brecht and Georg Kreisler. Not to mention that tune about a local native extemporizing his feelings about foreign guestworkers in fictitous experimental Viennese dialect.
Despite the musicians´ southeast-european roots (not including "migrant worker" Lina Neuner who travelled into Vienna from the county side) and the obvious influence on their repertoire, the quartet reaches far beyond these boundaries. Its artistic expression and music is multi-lingual as well as multi-stylistic, featuring Jazz, Rock, socio-critical songwriting and other genres.
Madame Baheux have brought something new on stage. Something that intoxicates, stirs up, provokes laughter, something that moves the mind, body and heart.
Madame Baheux won the Austrian World Music Awards 2014 and their debut CD got on top 20 of the World Music Charts Europe.
Die Musiker / Les musiciens / The musicians:
Jelena Popržan: Viola, Gesang - viole, chant - viola, voice
Ljubinka Jokic: (E)-Gitarre, Gesang - guitare (él.), chant - (el.) guitar, voice
Lina Neuner: Kontrabass - violoncelle - double bass
Maria Petrova: Drums, Percussion - batterie, percussion - drums, percussion
Weitere Informationen / Informations supplémentaires:
Eintritt/Entrée: Vorverkauf/Prévente 25 €, Reduziert/Réduit 12 €, Kulturpass 1,50 €
Vorverkauf über die Webseite des:/ Prévente par la page web du:
Neimënster: www.neimenster.lu
Reservationen/Réservations: Tel. (+352) 26 20 52 444
Für alle Fragen - Pour toutes questions: e-mail:
billetterie@neimenster.lu
---
WEITERE KONZERTE - D'AUTRES CONCERTS:
Samstag 2. Dezember 2017
VOXTRA
Weitere Konzerte für 2017-2018 sind geplant - D'autres concerts pour 2017-2018 sont prévus
---
De Folk-Clupp um Radio ARA

LIDDERHANES

All 1. Dënschdeg am Mount vun 20h00 bis 22h00

op 102,9 MHz an 105,2 MHz

live streaming on

---
---
| | last update: August 26th 2017 | |
| --- | --- | --- |
---